Coronavirus: China orders travellers quarantined amid outbreak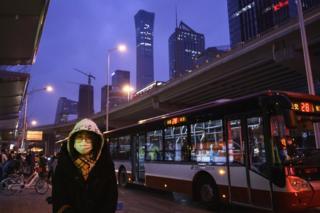 Travellers from countries with severe coronavirus outbreaks who arrive in some parts of China will have to undergo a 14-day quarantine, state media say.
Travellers from the virus hotspots of South Korea, Japan, Iran and Italy arriving in the capital will have to be isolated, a Beijing official has said.
Shanghai and Guangdong announced similar restrictions earlier.
Authorities are worried the virus might be imported back into the country.
Although most virus deaths have been in China, Monday saw nine times more new infections outside China than in.
What do I need to know about the coronavirus?
Shanghai said it would require new arrivals from countries with "relatively serious virus conditions" to be isolated, without naming the countries.
Authorities are also asking overseas Chinese to reconsider travel plans.
"For the sake of your family's health and safety, please strengthen your precautions, carefully decide on your travel plans and minimise mobility," officials in one southern Chinese province said.
China reported 125 new virus cases on Tuesday – the lowest number of new daily infections in six weeks. There were also 31 more deaths – all in Hubei province, where the virus emerged.China orders travellers quarantined amid outbreak
In other developments:
Finance ministers from the G7 countries are to have a conference call at 12:00 GMT to discuss the economic impact of coronavirus
The Pope, who had cancelled a Lent retreat for the first time in his papacy because he was suffering from a cold, has tested negative for the virus, Italian media report
South Korean President Moon Jae-in has put the country into what he calls a "state of war" to tackle the spread of the virus. He has ordered all government departments to shift to a 24-hour emergency system to handle the outbreak
Jailed British-Iranian woman Nazanin Zaghari-Ratcliffe is in good health, a spokesman for Iran's judiciary has said. She was assessed after her husband said she was showing symptoms of the coronavirus
A football club in eastern Germany has apologised to a group of Japanese guests who were asked to leave a home match on Sunday amid coronavirus concern
In the UK, where there are 39 confirmed cases, the government has warned that up to a fifth of the workforce may be off sick during the peak of a coronavirus epidemic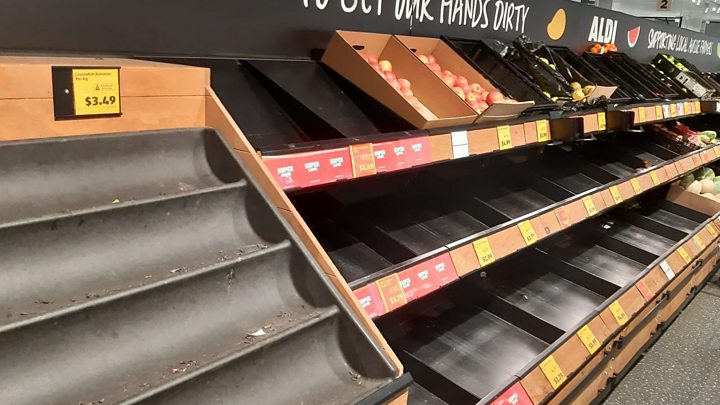 What's the latest?
There are now almost 90,000 cases worldwide in about 70 countries, although the vast majority – just under 90% – remain in China, and most of those are in Hubei province where the virus originated late last year.
Of the nearly 8,800 cases outside China, 81% are in four countries – Iran, South Korea, Italy and Japan.
One of the countries worst affected outside China – Italy – said on Monday that the death toll there had risen by 18 to 52. There are 1,835 confirmed cases, most of them in the Lombardy and Veneto areas of the north. Nearly 150 people are said to have recovered.
However, the country is seeing a slowdown in new cases. On Monday, the authorities said there were 258 new cases of the virus – a 16% increase on the previous day – after new cases spiked by 50% on Sunday.
Iran reported another 12 deaths on Monday, taking the total there to 66.
Health officials in the US state of Washington said on Monday that four more people had died, bringing the total there to six. They are the only deaths in the US so far. Local officials say they are buying a hotel to convert it into an isolation hospital.
On Tuesday, Ukraine confirmed its first case of coronavirus, while Portugal, Iceland, Jordan, Tunisia, Armenia, Latvia, Senegal, Morocco and Andorra confirmed their first cases on Monday.
How deadly is Covid-19?
The WHO says the virus appears to particularly affect those over 60, and people already ill.
In the first large analysis of more than 44,000 cases from China, the death rate was 10 times higher in the very elderly compared to the middle-aged.
Most patients have only mild symptoms and the death rate appears to be between 2% and 5%, the WHO said.
By comparison, seasonal flu has an average mortality rate of about 0.1%, but is highly infectious – with up to 400,000 people dying from it each year.
Other strains of coronavirus, such as Severe Acute Respiratory Syndrome (Sars) and Middle East Respiratory Syndrome (Mers), have much higher death rates than Covid-19.